My Friend is Here: Rethinking Feminist Collectivity in Troubled Times
Alba Folgado, Carlota Mir

9–13 juni 2021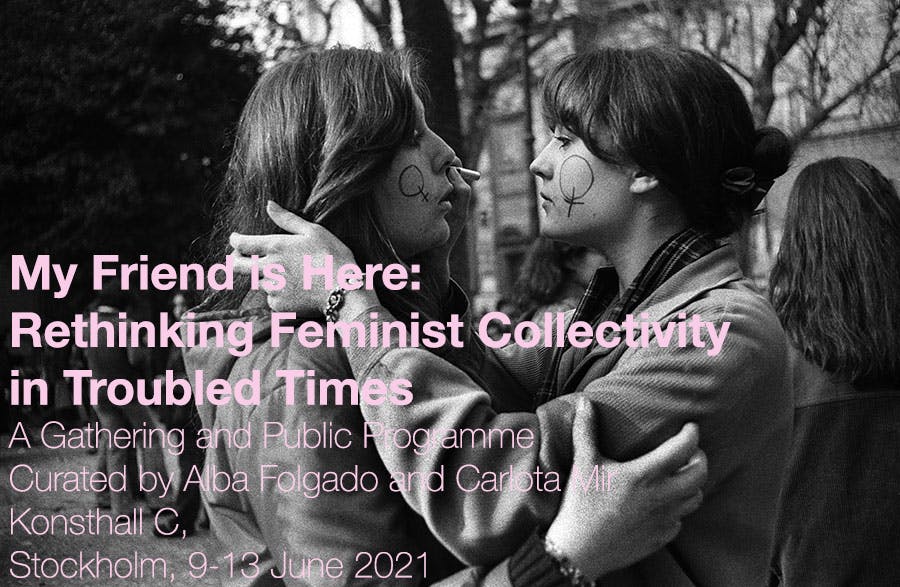 A Gathering and Public Programme Curated by Alba Folgado and Carlota Mir in collaboration with Konsthall C.
Rescuing the rare English euphemism 'My friend is here', which was used by North American women in the early 20th century to refer to their periods and withdraw from public life, this public programme aims to critically share and reflect on forms of feminist collectivity, difference, self-preservation and friendship at a completely different place and time: concretely, in the current intersections of feminist activisms and the contemporary art field.
We don't think it's an overstatement to declare that feminisms and their aesthetic and political manifestations are currently affected by various forms of conflict, trouble and grief: inner tensions and fragmentations, migration, racism, vulnerability, precariousness, intergenerational class struggles, power abuse, or the commodification of affect under cognitive capitalism. These obstacles and polarisations bring an altered sense of value and currency to historical feminist practices of gathering, originally devised to put in common experiences of oppression and sexual difference from the margins. What are, then, the implications of alluding to past strategies of collective withdrawal, care, learning and community-making at a time in which conditions and political urgencies of feminist practices have changed dramatically, and how can we re-interpret them?
Building a sense of indebtedness and criticallity with past expressions of feminist sorority and sexual difference, such as the consciousness-raising practices which bloomed in the 1970s, My Friend Is Here operates from a position of sad, hopeful intersectionality. We want to explore the historical and current conditions which enable or prevent integration into different feminist communities in personal, activist and professional settings. In this way, we aim to to share knowledge, tools and experiences that can help us move towards a more integral feminist work-life ethic today, rebuilding the sense of urgency and desire that we feel we need. It is our desire to 'stay with the trouble' and use the gathering context as a tool to grow affinities, build bridges and possible alliances across texts, places, bodies, and voices, prioritising mutual encounter, joint reflection, action, and experience over disembodied theory and art as spectacle, and practicing a politics of affirmation through recognising and celebrating our differences.
Deploying a global sense of place that sees local realities and feminisms as relevant in their uniqueness yet transnationally connected, our programme is nested in Stockholm, Sweden and thus, within the larger Scandinavian/Northern European context, which interpellates all of us in one way or another: as economic migrants and arts workers encountering various forms of trouble, as sexual minorities born and raised in a local context where our mothers – our feminist, anti-racist, and queer ancestors - were not visible; or as total outsiders to a foreign context that we have long perceived to be a global exception and the cradle of institutional feminism and 'progress'.

Schedule
Wednesday 9th of June (DAY 0) Opening Evening Programme at Konsthall C
17:00 → Public programme presentation by Carlota Mir and Alba Folgado + Mingle  (Public event. 25 seats available, please book by emailing info@konsthallc.se)
Presenting My Friend is Here: The Company We Keep
Together with the programme participants, Alba Folgado and Carlota Mir will present their thoughts around topics of friendship, withdrawal and feminisms from the past, which have motivated their work for this programme. 
By using strategies of citation we will sit with Celine Condorelli's feminist treaty on friendship as material condition and working method. The book 'The Company She Keeps' will be collectively discussed alongside our thoughts, references, work and feelings. This format will allow us to do research in public, talk about friendship in relationship to the participants' work, and reflect on the need to find closed spaces (spaces of withdrawal from production and the public sphere) in order to talk to each other and create the necessary alliances that allow us to survive in the (art)world. 
Thursday 10th of June (DAY 1) Session at Konsthall C
10:00 – 12:00 → reading group led by Alba Folgado (Closed event)
It felt safe, like being at home
This workshop will consist of the collective reading of "A Room of One's Own. Feminist Intersections between Space, Women's Writing and Radical Bookselling in Milan (1968-1986)" and a subsequent debate among the participants. The article, written by Andrea Hajek, has been chosen because of its analysis of feminist collective practices during the 1970s in Italy. Together we will read the text and reflect on the notions of "safe space" and withdrawal that the text introduces. These examples will also be contrasted with the participants' own perspectives and contemporary events such as a feminist occupation in Mexico in 2020 or the Chilean protests in 2019.
12:00: Lunch* 
13:00 – 15:30 → Workshop with Jenny Richards and Ulrika Flink (Closed event)
'Gossip': A Workshop on Burnout 
The Gossip workshop (guided by Ulrika Flink and Jenny Richards) collectively explores some of the working conditions of cultural production and its gendered, racialized and classed work injuries. Asking what healthier workspaces and working practices do we want to see put in place?
The workshop is the first in a series of public events connected to ongoing research instigated by alarm and concern by the many of us (cultural workers) who have been burnt out and exhausted by our work, both from working within institutions and within freelance work. 
The workshop seeks to respond to this and listen to our collective experiences: to see these experiences as a source of knowledge to be learned from, in hope that we might highlight the fallout of our working conditions and raise awareness within our field.

17:00 → 19:00 Talk by Sam Hultin Eva Lisa's Monument and Fika (Public event. 25 seats available, please book by emailing info@konsthallc.se)
Eva Lisa's Monument and Fika
Eva-Lisa Bengtson (1932-2018) was a trans pioneer and lesbian activist who, in addition to starting the first club for trans people in Sweden in the 1960s, also co-founded Kvinnohuset – a community center/headquarter for the feminist movement in Stockholm 1979-2005. Despite her significance for the Swedish lgbtqi and feminist movements, she was never able to live as herself full-time and as a lesbian trans woman, she was also exposed to extensive transphobia within the lesbian and feminist movements. Despite this, she remained engaged with a number of queer and feminist organizations throughout her life, often as the one making sandwiches, taking notes or cleaning up after a festival – basic chores with little or no status connected to them but vital for any activist organization.
 Since Eva-Lisa's passing in 2018 Sam has managed the material that Eva-Lisa carefully collected and turned into a unique archive over her life as an activist. Departing from the archive and a series of interviews that Hultin conducted in 2016 and 2017, Sam has -through guided city walks, videos, performances and texts- worked to highlight Eva-Lisa's life and work under the larger project titled Eva-Lisa's Monument.
In their presentation, Sam will talk about Eva-Lisa, and about the possibilities of solidarity and inclusion versus the opposite, and about their work with the archive. Sam's presentation will also include a basic ingredient of care in activist work: a fika.
Friday 11th of June – (DAY 2) Session at Konsthall C
10:00 – 13:00 → Collective reading session facilitated by Carlota Mir (Closed event)
Going After Kathy Acker: A Collective Quest 
This collective reading session centres around Chris Kraus's 2017 book 'After Kathy Acker' (Chris Kraus, 2017). For Kraus, writing the biography of a female contemporary is more than a writing exercise - it is an act of rebellion, because writing about the life and work of a contemporary is something that according to the author, 'men do all the time, but women don't or can't'. Kraus's powerful stance reveals why, despite a life of difficulty with Acker, she would go on to write her biography twenty years after her death. Through our collective reading session, we will try to make sense of Acker's life and reflect on the rich, troubled relationship, both literary and real, that writers Kathy Acker and Chris Kraus had with one another, while reflecting on their writing tactics, both of which generate alternative models to masculinised, authorial structures of artistic and literary production.
We will use an old reading technique called arpentage, which consists of chopping up the book, dividing its pages, leaving some time and space for individual reading and reflection, and reconstructing the text together. Key bits of the conversation will be transcribed live, creating a choral account of the book.
14:00 – 16:00 →  workshop &  talk Rossana Mercado-Rojas (Public event. 25 seats available, please book by emailing info@konsthallc.se)
Reflections on Institutional Violence and Collectivity, Art and Activism
In her talk and workshop, Mercado-Rojas will present the relationship between her artistic and her activist practice, focusing on her experiences and methods of working collectively as a way to deal with different forms of (institutional) violence. The workshop acts as an experimental platform for shared knowledge, as a collective mural and a mind map at the same time. The mural mindmap  develops and changes as a parallel to how situations of institutional violence affect and change our senses, our bodies and our collective body as a society. The collective map becomes a document for links between the personal and the public, between personal stories that reflect the structures of society which in turn embody the core of patriarchal (and colonial) violence. Through this exchange of experiences, Rossana Mercado-Rojas makes the personal political, the individual experience becomes a pattern that reveals action (or passivity) from a society that, seen from foreign media, is famous for promoting gender equality and driven by a feminist agenda.
17:00 → 19:00 Conversation with NO NIIN + mingle ( Conversation with NO NIIN + mingle (Public event. 25 seats available, please book by emailing info@konsthallc.se)
      NO NIIN: Causes of Sleepless Nights
 Elham Rahmati and Vidha Saumya will introduce their newly established platform 'NO NIIN' which is an independent online monthly magazine at the cusp of art, criticality and love. NO NIIN aims to publish rigorous and engaging writing on current ideas, debates, and disputes around contemporary art and culture. It functions as a platform for commissioning writers of any background to express their thoughts in the form of essays, reviews, interviews, art, poetry, short fiction, podcasts, and playlists. What is NO NIIN and why did we choose to do this? How are we maintaining a space of genuine transparency and accountability within NONIIN? We will focus on these topics and issues, which run across our practice: contracts, conflict resolution mechanisms, where did all the money go? and causes of sleepless nights.
Saturday 12th of June (DAY 3) – Session at Konsthall C
10:00 -12:00 → Workshop with Raisa Maudit (Closed event)
      WE'RE BORN FROM BLOOD AND WE'RE GOING TO FIGHT BACK
 Departing from concepts such as horror and monstrosity - and particularly, from the idea of the vampire - we will explore the structural violence we receive daily, which is generated across multiple variables that generate layers of pain, disease and invisibility. Through a transversal approach mixing theory and fiction which uses empowering strategies of revenge fantasy,  we will look at different ways in which we can turn around the brutality we are subject to in order to transform it.
12:30 → SPIKED by a sea urchin? a walk and mixtape by Mourning School from Konsthall C to Galleri Nef hosted by Rosa Simone & Lucie Gottlieb.  (Skogkyrkogården cemetery), exhibition visit and lunch at Galleri Nef hosted by Rosa & Lucie Gottlieb (Closed event)
SPIKED by a sea urchin? is a Lo-Fi mixtape* and walk, stitching together songs, poems, scientific research, image descriptions, jokes, sounds and silences on climate grief, queerness, UNESCO cemeteries, jellyfish and sea urchins, future species, children's drawings, and Britney Spears. Developed by Mourning School to guide you on a walk from Konsthall C, via the UNESCO world heritage cemetery Skogkyrkagården, to Galleri Nef. Mourning School is an artistic study program on being in grief as the stuff of our everyday, initiated by curator Lucie Gottlieb and translator Rosa Simone in 2021 and supported by The Swedish Art Council and the Nordic Culture Fund through the Globus Opstart Program. 
Sunday 13th of June (DAY 4) - Session at Konsthall C
10:00 - 11:30 → Screening and workshop by Alex Martinis Roe on alliance. (Closed event)
Propositions on Feminist Collectivity: On Alliance
Alex Martinis Roe's workshop, in which the artist will be involved remotely, consists of creating a safe space to discuss experiences related to alliance and collaboration. We will share these stories, taking time to reflect on the significance of them, perhaps even collectively writing down what can be learned from each story. The sharing process will inform a discussion on what practices are necessary for forming solidarity-in-difference in specific contexts/across different contexts.
We are Carlota (she/her) and Alba (she/her), two friends and colleagues who have decided to embark together in this adventure. We met in the context of a postgraduate curatorial course in Konstfack in 2019. We come from different parts of Spain, we have both spent our 20s in contexts of transnational migration in various parts of Northern Europe - Sweden being central to both of us - and, while we are very different to one another, we have a very compatible work ethic, interests and expectations regarding feminist research, politics and curating. One achievement and goal we have is to remain friends throughout the process of curating My Friend Is Here and constantly strive for improving our practice. 
Participants: Alex Martinis Roe, Jenny Richards, NO NIIN (Vidha Saumya and Elham Rahmati), Raisa Maudit, Rosa Simone (Mourning School), Rossana Mercado-Rojas, Sam Hultin and Ulrika Flink.
Program funded by an Artistic Research & Development Grant by the Royal Institute of Art in Stockholm.
With support from the Spanish Embassy in Sweden, Nordic Culture Point and Konsthall C.