Station #2, decoloniality
Brown Island and Camila Marambio

11–15 september 2019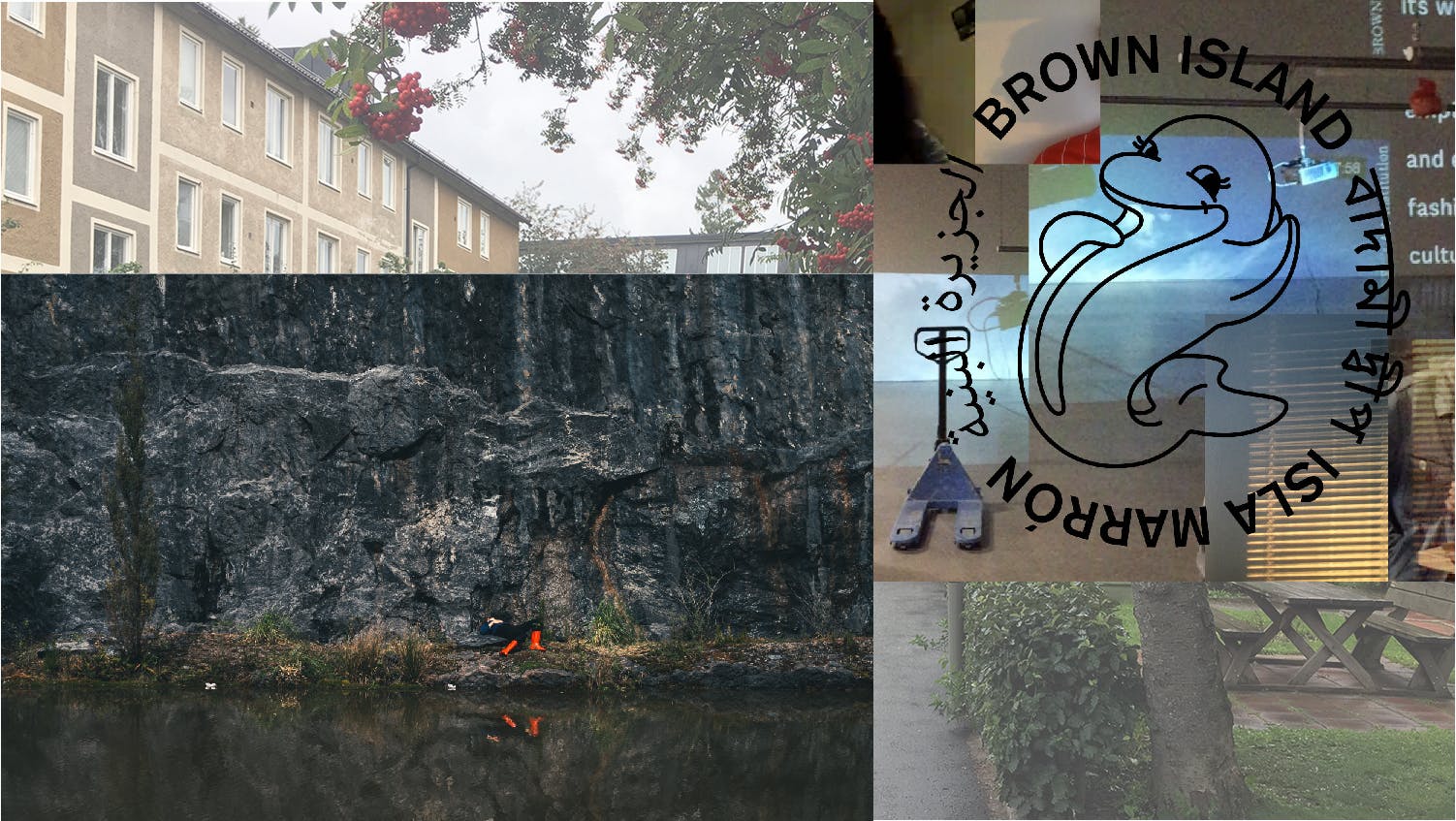 For Station # 2, we have invited the Brown Island artist collective and curator Camila Marambio based on their work on decoloniality, to engage the site and create situations for collectivities and communities to be formed and developed.
For the duration of the week, Brown Island will be "Practicing Community", using the space of Konsthall C to make visible the exploration of tactics for collectivity while manifesting a place where people of colour (POC) can gather to support one another. Through inhabiting the space and inviting conversation partners, possibilities and issues concerning the making and sustaining of collectivity, as well as the practicing of community will be formulated and activated.
"No" is an opening, a refusal that opens up for intergenerational dialogues and multilingualism. Through various conversational propositions Camila Marambio opens up anticolonial discourse to ponder ecological disasters and the specific trauma of Chilean history. Unfolding in a relay form, "No" begins with the literary presence of Camila's ongoing conversation with poet Cecilia Vicuña, partly collected in the recently published book "Slow Down Fast, A Toda Raja" (2019) and the collective nomadic research she curates in Tierra del Fuego and other archipelagos presented in the book "Wild Living Marine Resources Belong to Society As a Whole" (2017) edited by Randi Nygard and Karolin Tampere. "No" then cedes the anticolonial conversation to another pair of voices, the feminist antiracist activist and TEMA Genus Gender Studies Scholar (Linkoping University) Caroline Betemps and the artist/political activist Berta Guerra Aredal. This will be followed up with "No" banner making and culminates with the screening of the first season of web series "DISTANCIA" (2018) imaged and visualized by Camila Marambio and Carolina Saquel for Ensayo #3: On Human Geography.
Public Program for Station #2
Wednesday September 11 
6pm-8pm Opening 
Thursday September 12 
10am-5pm Brown Island Office Hours*
Friday September 13 
noon-5pm Brown Island Office Hours*
Saturday September 14 
noon-5pm Brown Island Office Hours*
5pm-5:40pm Screening of the web series DISTANCIA (2019)
Sunday September 15 
2pm-3:30pm Conversation between Caroline Betemps and Berta Guerra Aredal 
3:30pm-5pm "No" print-workshop led by Berta Guerra Aredal
* Brown Island Office Hours: Brown Island members will be in the space exploring questions and tactics of sustaining collectivity and working on a publication which documents the discourse that opens up throughout the week. Feel free to come by and chat with them.
In addition to the public program, the art space is open at regular times: Thursday-Sunday 12-17
 Read more about Circuit Training – a retrospective in becoming. Konsthall C 15 years 2004-2019